Affordable Whole-Home Wi-Fi 6 review of the D-Link M15 Eagle Pro AI AX1500 Mesh.
If you want straightforward to control and extended wireless coverage, a mesh network is your best bet. On the other hand, the best systems can be very expensive, and models that cost less usually don't work as well.

At the cheaper end of the spectrum is the D-Link M15 Eagle Pro AI. With two-node and three-node setups, it is less expensive than many standalone routers and enables a complete Wi-Fi 6 mesh network.

For customers who care about speed, D-Link promises "AI-enabled capabilities that are always getting better and faster."Even though the product itself has good coverage and a decent set of features for the price, the idea of a mesh that decides on its own how to provide the best performance sounds cool but isn't backed up by much evidence.
With a claimed coverage area of 370 square meters or 500 square meters, respectively, it is marketed as a package of two or three similar units. Each device features a 5GHz transmitter with an 80MHz channel width and a top speed of 1.2Gbits/sec, as well as a 2.4GHz radio that permits connections at up to 300Mbits/sec. The twin antennas on each device allow connections for 2×2 MU-MIMO.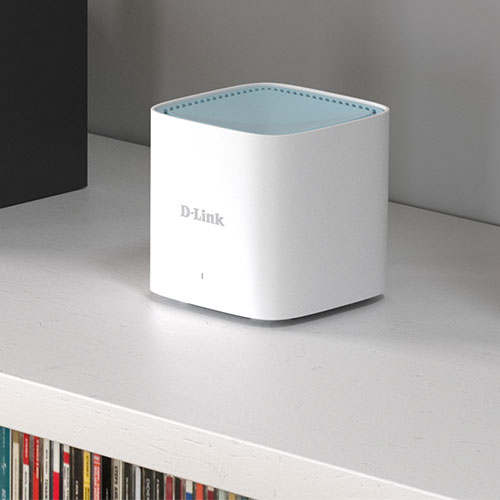 The Wi-Fi 6 specifications consider these numbers to be low. With twice as much MIMO capacity and channel width, the best routers and mesh networks available today can support communications at up to 4.8 gigabits per second. Additionally, since this system doesn't use a separate backhaul radio link, data movement between mesh stations reduces the bandwidth that is available for your devices. It's a solid modern specification, but performance isn't the most crucial factor, to put it briefly.
The M15 units are very small—92 x 92 x 93mm—almost cubic in shape. They are very discreet, sporting a pretty pastel blue top and a tasteful white casing. On the front of each one is a single multicolored LED that shows the current condition.

Each node has two-gigabit network ports on its back. Although they are labeled "internet" and "ethernet," any of them can be used to connect to the satellite units through LAN. However, your internet connection actually requires the "internet" connector on the main unit, so if you want to connect more wired clients, you'll need to invest in a network switch.
The hardware just includes a reset button and a WPS control, but the online console provides more features. Because the M15 mesh uses the same software as D-Link's R15 Eagle Pro AI router, you receive a good selection of administrative features.

Although the QoS manager does not allow you to prioritize different traffic types, the configurable SPI firewall is a welcome addition. I really like how easily and permanently you can increase the priority of a single device. Using the incoming VPN server, you can connect to a home NAS or a shared printer online in a safe way.
Good parental restrictions are available in Eagle Pro Ai, which is great because not all meshes have these. But because the M15 only has manual blocklist site screening, its limitations are only useful for setting time limits.